My husband loves our Chocolate Caramel Toffee Crunch Cake so much that I make it for every special occasion.  For Father's Day, I thought I would switch it up a little bit.  I combined his love for poke cake with banana cream and this tasty treat was born!  The cake was so moist, gooey and delicious that it didn't last long around our house.
Caramel Banana Nut Poke Cake Recipe:
Ingredients:
Cake:
1 (16.5 ounce) box yellow cake mix, prepared according to directions
1 (14 ounce) can sweetened condensed milk
1 (12 ounce) jar caramel sauce
Topping:
1 (3.4 ounce) box instant banana pudding
1 1/2 cups milk
1 (8 ounce) container Cool Whip
Nut topping


Directions:
Make yellow cake according to the box directions for a 9×13 cake.  Let cool.  Using a fork, poke holes all over the top of the cake.  Pour sweetened condensed milk and caramel sauce over the top of the cake, letting them soak into the cake.  In a mixing bowl, whisk together banana pudding mix and milk for two minutes, until it begins to thicken.  Fold in Cool Whip until completely combined.  Spread Cool Whip/pudding mixture over the top of the cake.  Sprinkle on nut topping and drizzle with any leftover caramel.  Store in the refrigerator until time to serve.
Looking for other delicious cake recipes?
Here are a few of our favorites:
Strawberries and Cream Poke Cake
Boston Cream Pie Poke Cake
Pineapple Orange Cake
Chocolate Caramel Toffee Crunch Cake
Carrot Cake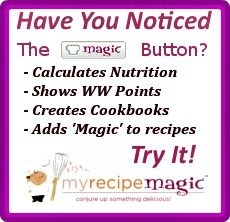 Have you signed up to become a chef on My Recipe Magic?
Not only does it add "magic" to your recipes, but it's the only recipe sharing site that actually PAYS you to share your recipes! So if you have a delicious recipe that everyone always asks for or a family favorite that everyone loves, share it today and make a little extra "dough"!