So, I want to ask a question that might spark a huge, ugly debate . . .
What is better:
Cookie dough or a cookie?
As for me, I am totally on Team Cookie Dough.
I know that people will let me know that the eggs in the dough could be harmful,
but seriously it won't change my mind.
I just have no control! When you put a bowl of cookie dough in front of me, I can't help but eat a couple handfuls.
That's right . . . I said HANDFULS. 🙂
By the time the cookies are finally done baking, I am so full of cookie dough that I can't even bring myself to try a cookie.
Whether you love cookie dough or cookies, this recipe is for YOU.
The dough is divine (in my humble opinion), but my husband swears that the cookies are even better (but you don't have to take his word for it).
White Chocolate Chip Oatmeal Cookies
Ingredients:
1 cup butter, softened
1 cup brown sugar
1 cup white sugar
2 eggs
2 teaspoons vanilla extract
3 cups flour
1 teaspoon baking powder
1 teaspoon baking soda
1 teaspoon salt
1 1/2 cups rolled oats
2 cups white chocolate chips
Directions:
Preheat oven to 350 degrees.
In a bowl, beat together the softened butter, brown sugar, and white sugar. Add in eggs and vanilla and mix well. Stir in the flour, baking powder, baking soda and salt until completely incorporated. Fold in the oats and white chocolate chips. Drop by tablespoonfuls onto cookie sheets and bake for 9-12 minutes. Remove from cookie sheets and let cool.
Makes about 5 dozen cookies.
Recipe source: AllRecipes
Looking for more yummy cookie recipes?
Homemade Thin Mint Cookies
Puffy Vanilla and Peanut Butter Chip Cookies
Cookies and Cream Cookies
Cherry Danish Cookies
Root Beer Float Cookies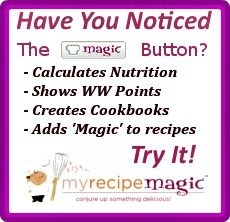 Have you signed up to become a chef on My Recipe Magic?
Not only does it add "magic" to your recipes, but it's the only recipe sharing site that actually PAYS you to share your recipes! So if you have a delicious recipe that everyone always asks for or a family favorite that everyone loves, share it today and make a little extra "dough"!