This week we have had a lot of recipe fails. My poor husband choked them down because it was either eat it or eat a sandwich. I chose the sandwich.
As we were laughing about one of my recipe fails, we got talking about haystacks and how he hasn't had any for a long time. So I decided to put a twist on it. Mexican Haystacks! He said this recipe was delicious and a keeper!
Slow Cooker Mexican Haystacks
Ingredients:
1/2 package taco seasoning
4 boneless skinless chicken breasts
3 cups of your favorite salsa
Toppings:
1 15 oz can of corn, drained
1 15 oz can of black beans, rinsed and drained
1 15 oz can of black olives, sliced
1 red pepper, chopped
1/2 cup of cheese
1/4 cup of fat free sour cream
Directions:
Place chicken in slow cooker and sprinkle the taco seasoning on top of them. Then spoon the salsa over the chicken. Cook on high for 4 hours or low for 6 to 8. Shred meat and leave in crock pot on low until ready to serve.
To make your "Mexican Haystack" place your chicken on top of rice.
Then add your corn, black beans, olives, red peppers, cheese and sour cream.
You could also add other ingredients like cilantro, avocado, and hot sauce!
Looking for other delicious slow cooker meals? Try some of these ones! 
This post is sponsored by: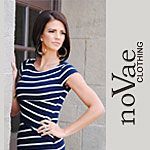 We love noVae Clothing for their trendy, modest style – but what we love most is how unique each piece is! This CrissCross Maxi Dress is one of our newest favorites. The lines on the dress smooth out those difficult areas we are trying to disguise. 🙂 They just released the dress in navy blue (which will pair perfectly with a dash of summery yellow) and the best part – it's on sale! They just Re-stocked for the last time, so get them while you can from noVaeClothing.Com!