We are the biggest chocolate fans and are always looking for new brownie recipes.  These were absolutely amazing.  We couldn't stop eating them!  Thick and gooey with double chocolate and coconut!  YUM!  So easy to make…we know you will love them too!
Double Chocolate Coconut Brownies
Serves: 20
Ingredients:
1 box fudge brownie mix (for a 9 x 13 pan)
1/2 cup canola oil
1/4 cup water
3 eggs
1/2 cup chocolate chips (milk or semi sweet)
1/2 cup white baking chips
1/2 cup chopped walnuts
1 14 ounce can sweetened condensed milk
2 1/2 cups flaked coconut (sweetened)
Frosting:
1/4 cup butter, softened
1/4 cup evaporated milk
2 tablespoons cocoa
2 cups powdered sugar
1 teaspoon vanilla
Directions:
1. Beat brownie mix, oil, water and eggs on medium speed in a large bowl until blended.  Then stir in chocolate chips, white chips, and walnuts.   Pour into a greased 9 x 13 inch baking pan.  (I used a glass pan)
2. Bake at 350 degrees for 20 minutes.  Remove from oven.  Combine sweetened condensed milk and coconut in a small bowl.  Spread over the top of the brownies very carefully.  I dropped by spoonfuls all over the top of the brownie mixture and spread it gently.  Bake for 20-25 minutes longer or until center is set. Your coconut will start to brown, don't let it get too brown or burnt. Cool completely.
3. Combine frosting ingredients above in a small mixing bowl.  Beat until smooth.  Spread over the cooled brownies.
Recipe from: Taste of Home
Looking for more delicious brownie recipes?
Strawberry Cream Cheese Fudgy Brownies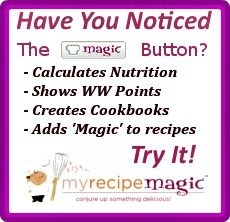 Have you signed up to become a chef on My Recipe Magic?
Not only does it add "magic" to your recipes, but it's the only recipe sharing site that actually 
PAYS
 you to share your recipes! So if you have a delicious recipe that everyone always asks for or a family favorite that everyone loves, share it today and make a little extra "dough"!