Growing up, we were a cold cereal type family.  We rarely had cooked breakfast as we were all busy in the morning, and actually preferred a bowl of Lucky Charms over a stack of pancakes!  Sadly enough, I have passed the cold cereal tradition on to my family.   After trying these
Easy Lemon Pull Apart Rolls
, I decided to try something just as easy and delicious for my family to enjoy!  It was absolutely amazing
{and they were thrilled to have a break from cereal}
!
Orange Monkey Bread Recipe:
(Serves 8-10)
Ingredients:
Bread:
1 1/4 cups granulated sugar
1 Tablespoon grated fresh orange zest
1/3 cup orange juice
1/4 cup butter, melted
2 (12 ounce) cans refrigerated biscuit dough, cut into fourths
Glaze:
1/4 cup butter, melted
1/2 teaspoon vanilla extract
1 Tablespoon milk (more or less depending on desired consistency)
1 cup powdered sugar

Directions:
Preheat oven to 375 degrees.  Grease a 10-inch bundt pan with nonstick cooking spray.  In a small bowl, combine sugar and orange zest.  In a separate bowl, combine orange juice and melted butter.  Dip biscuit dough pieces in orange juice mixture, roll in sugar mixture and place in prepared pan.  Pour remaining orange juice mixture over the biscuits.  Bake for 30 minutes, or until golden brown.  Let cool for a few minutes, then turn bundt pan over onto a serving platter.  Remove bundt pan.  To make glaze, whisk melted butter, vanilla, milk and powdered sugar together until combined.  Top with glaze and sprinkle with additional orange zest (if desired).
Looking for other delicious breakfast recipes?
Here are a few of our favorites: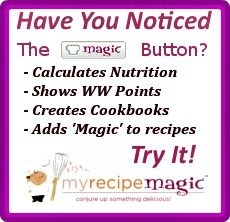 Not only does it add "magic" to your recipes, but it's the only recipe sharing site that actually PAYS you to share your recipes! So if you have a delicious recipe that everyone always asks for or a family favorite that everyone loves, share it today and make a little extra "dough"!