We want to invite you to participate in the
World's Largest Family Dinner!
Click HERE to join and add a marker to our world map to represent your state/country.
Join the Six Sisters for the
World's Largest Family Dinner!
No matter where you live in the world, we would love to have you 
eat dinner with your family at 
6 pm (your time zone) on April 10, 2013.
If possible, we would love to have you
take a picture
and share it on Instagram,
leave us a comment
on our
Facebook
page, or
tweet about it
and tag us in it (@SixSistersStuff).
Use the hashtags #DinnerChallenge and #SixSistersStuff to help spread the word!
My husband loves Chicken Parmesan, but it is a little too time consuming when I am trying to juggle two kids under the age of three while trying to cook.  This recipe is so simple and even my picky three year old devoured it!

Chicken Parmesan Crescents Recipe:
(Makes 8 servings)
Ingredients:
8 chicken strips, fully cooked (I used Tyson Crispy Chicken Strips)
1 (8 ounce) can refrigerated crescent rolls
8 slices mozzarella cheese
1 (24 ounce) jar spaghetti sauce
1 Tablespoon butter, melted
1/4 teaspoon garlic powder
1/2 teaspoon Italian seasoning
1 Tablespoon grated Parmesan cheese
Directions:
Cook chicken strips according to package directions.  Preheat oven to 375 degrees.  Separate crescent rolls into 8 triangles.  Place one slice of cheese on the wide end of each crescent roll.  In a saucepan over low heat, warm spaghetti sauce until heated through.  Dip cooked chicken strips in spaghetti sauce so they are completely covered.  Place dipped chicken strips on top of cheese and roll up crescent rolls.  Place rolls on an ungreased baking sheet.  Brush melted butter on top of each roll and sprinkle with garlic powder, Italian seasoning and Parmesan cheese.  Bake for 15 minutes, or until golden brown.
Looking for more delicious chicken recipes?
Here are a few of our favorites:
Parmesan Chicken Bake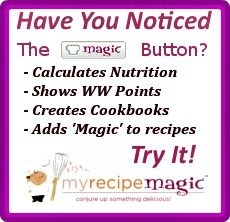 Have you signed up to become a chef on My Recipe Magic?
Not only does it add "magic" to your recipes, but it's the only recipe sharing site that actually PAYS you to share your recipes! So if you have a delicious recipe that everyone always asks for or a family favorite that everyone loves, share it today and make a little extra "dough"!