Chewy Oatmeal Raisin Cookies Recipe:
(Makes 4 dozen cookies)
Ingredients:
3/4 cup butter, softened
3/4 cup granulated sugar
3/4 cup light brown sugar
2 eggs
1 teaspoon vanilla extract
1 1/4 cups all purpose flour
1 teaspoon baking soda
3/4 teaspoon ground cinnamon
1/2 teaspoon salt
2 3/4 cups old fashioned oats
1 cup raisins
Directions:
Preheat oven to 375 degrees.  In a large bowl, cream together butter, granulated sugar, and brown sugar until smooth.  Beat in eggs and vanilla until fluffy.  Combine flour, baking soda, cinnamon and salt.  Gradually beat in dry ingredients into butter mixture.  Fold in oats and raisins.  Drop by rounded teaspoons onto cookie sheets lined with parchment paper.  Bake 8-10 minutes, or until golden brown.
Looking fore more delicious cookie recipes?
Here are a few of our favorites: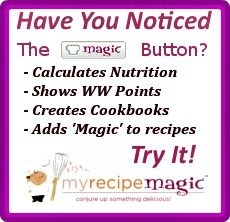 Not only does it add "magic" to your recipes, but it's the only recipe sharing site that actually PAYS you to share your recipes! So if you have a delicious recipe that everyone always asks for or a family favorite that everyone loves, share it today and make a little extra "dough"!