It is almost May and when I woke up this morning to go running it was 29 degrees outside. I don't know about you… but I am DONE with this cold! Last week I decided that if I cook food that reminds me of summer maybe it will make me feel better about the high only being 49 degrees. 🙂
Pasta salads always remind me of BBQs. I can't wait until we can eat dinner outside again!
BLT Pasta Salad Recipe:

Ingredients:

16 ounces mini bow-tie pasta
1 lb. bacon (I used turkey bacon)
1 pint plum tomatoes, sliced
1 cup fat free Italian dressing
1 cup sliced black olives
1/2 cup Parmesan
1 bunch of green onions, diced
4 cups chopped romaine lettuce
Directions:
Cook the pasta in a large pot of salted water to al dente, then drain.  Rinse with cold water, put noodles in a large bowl, then stick it in the refrigerator.  Cut the bacon into bite size pieces and cook in a large skillet until crisp. Drain on paper towels.  Take noodles out of the refrigerator and add the Italian dressing, bacon, tomatoes, onions, olives and Parmesan. Stick in the Refrigerator until ready to serve. Add the lettuce right before serving.  For a stronger taste,let it sit overnight.
(Recipe adapted from Big Sis Little Sis)


Looking for other delicious side dishes? 
Here are a few of our favorite: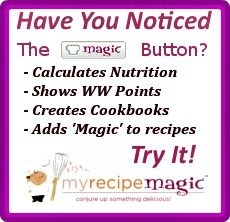 Not only does it add "magic" to your recipes, but it's the only recipe sharing site that actually PAYS you to share your recipes! So if you have a delicious recipe that everyone always asks for or a family favorite that everyone loves, share it today and make a little extra "dough"!