After a recent cookbook signing, my sisters and I ate at the cutest little restaurant called Blue Lemon. They have the most amazing sandwiches and I ordered their Chipolte Pineapple BBQ sandwich. It was so delicious and the whole time I was eating it, I just kept thinking that I would have to come home and try to make it for my family. The beef just melted in your mouth and the toasted bun was the perfect compliment.
After lots of experimenting, I think that I have come pretty dang close to a copycat recipe. The longer you let it cook, the better it becomes. The meat had a really yummy flavor and the pineapple adds just a tiny amount of sweetness. So, if you want to mix up your shredded beef sandwiches, give this recipe a try!
Slow Cooker Pineapple BBQ Beef
Ingredients:
1 (2-3 lb) beef rump roast
1 (20 oz) can pineapple chunks, juice reserved
1 onion, diced
1/2 cup apple cider vinegar
1/3 cup brown sugar
1/2 cup ketchup
1 tablespoon mustard (I used Dijon mustard)
2 Tablespoons Worcestershire sauce
Directions:
Spray crock pot with non-stick cooking spray. Place roast inside.
In a separate bowl, mix together juice from pineapples, onion, vinegar, brown sugar, ketchup, mustard, and Worcestershire sauce. Pour over roast.
Add pineapple chunks to roast and cook on low for 10 hours or high for 5-6 hours (I prefer cooking longer on low).
When finished, shred meat using two forks (it should just fall apart by this time). Serve meat on toasted buns, topped with your favorite sandwich fixings (I like red onions, lettuce, tomatoes, and provolone cheese).
Looking for more slow cooker sandwiches?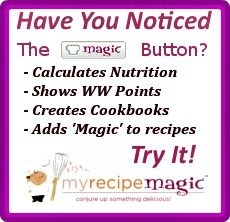 Not only does it add "magic" to your recipes, but it's the only recipe sharing site that actually PAYS you to share your recipes! So if you have a delicious recipe that everyone always asks for or a family favorite that everyone loves, share it today and make a little extra "dough"!