Easter is in less than a week! Holy cow! Where has the time gone? Growing up my Grandma made a delicious ham for Easter every year. This year I decided to try a few different ham recipes and this Dr. Pepper Pineapple Ham was by far my favorite! We will be making it again this Sunday. Hope you all have a wonderful Easter!

Dr. Pepper Glazed Ham
Ingredients:
1 5 to 10-pound spiral-sliced Ham
3/4 cup packed brown sugar
1/2 cup Dr Pepper
2 teaspoons Dijon mustard
1/2 cup crushed pineapple
Directions:
Remove the ham from the packaging. Place the ham, cut-side down, in the roasting pan or baking dish and wrap the ham and pan tightly with foil.
Adjust an oven rack to the lowest position and heat the oven to 250 Degrees
Bake the ham until the center registers 100 Degrees F on an instant-read thermometer, 1 1/2 to 2 1/2 hours, depending on the size of the ham. (about 17 minutes per pound) – or you can buy it pre-cooked and it will cook for a lot less time.
While the ham bakes, bring the sugar, Dr Pepper, and mustard to a simmer in a medium saucepan and cook until syrupy and reduced to 3/4 cup (about 8 minutes)
Remove the ham from the oven and roll back the sides of the bag or the foil to expose the meat. Carefully tip out the juices that have collected in the pan into your sink. Brush the ham with the Dr Pepper glaze and then spoon 1/2 cup of crushed pineapple over the ham and glaze.  Return it to the oven, uncovered, for about 30 minutes. (Check the ham occasionally and if it appears to be browning too much, tent it with a piece of foil.) Remove the ham from the oven and brush it again with the Dr Pepper glaze. Tent the ham loosely with foil and let it cool for 30 to 40 minutes before slicing and serving.
Recipe adapted from Leite's Cluinaria
Looking for some Easter Side Dishes? 
Here are my favorites: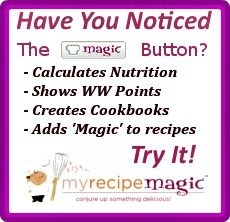 Not only does it add "magic" to your recipes, but it's the only recipe sharing site that actually PAYS you to share your recipes! So if you have a delicious recipe that everyone always asks for or a family favorite that everyone loves, share it today and make a little extra "dough"!