I love Mexican food, but I love it even more when I can put it in my crock pot and don't have to worry about it until dinnertime!  This meat is so flavorful and moist and pairs perfectly with the little kick in the pepper jack cheese.  This is one of our go-to meals when I know I won't have much time to prepare dinner!
Slow Cooker Chicken Ranch Enchiladas:
(Makes 8 enchiladas)
Ingredients:
4 chicken breasts
1 packet taco seasoning
1 packet ranch dressing mix
1 (14.5 ounce) can chicken broth
8 flour tortillas
2 cups shredded pepper jack cheese
1/2 cup light ranch dressing
1/2 cup salsa
Directions:
Place chicken in slow cooker and sprinkle on taco seasoning and ranch dressing mix.  Pour chicken broth over chicken, replace lid and cook on low for 6 hours.  Remove chicken from the slow cooker and shred.  Divide chicken and cheese between tortillas.  Roll up and place in a lightly greased 9×13 baking pan.  Bake at 350 degrees for 20 minutes.  Combine ranch dressing and salsa and pour over baked enchiladas.
Looking for more enchilada recipes?
Here are a few of our favorites: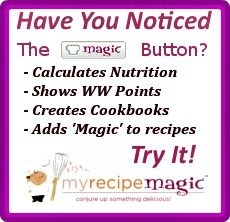 Not only does it add "magic" to your recipes, but it's the only recipe sharing site that actually PAYS you to share your recipes! So if you have a delicious recipe that everyone always asks for or a family favorite that everyone loves, share it today and make a little extra "dough"!