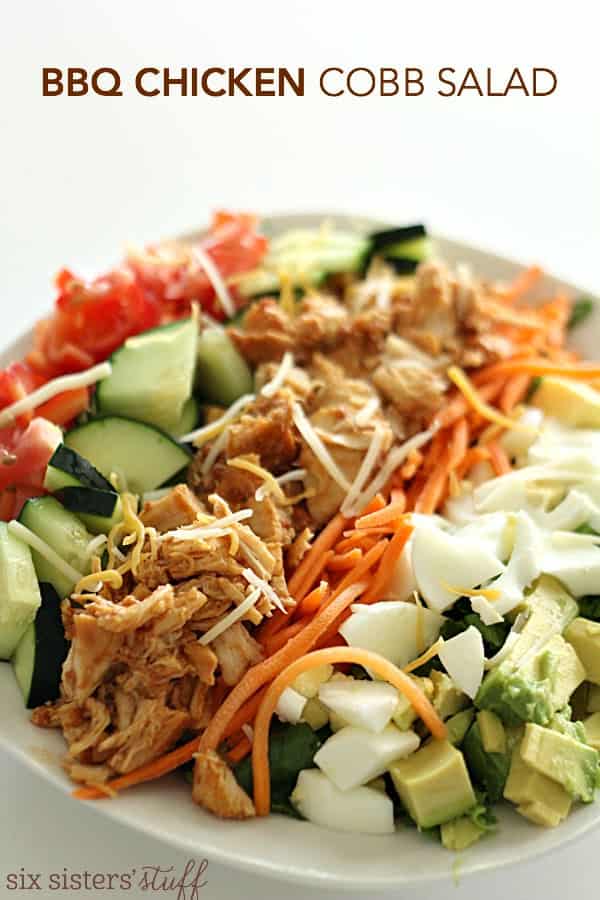 The biggest challenge for me is getting all the servings of vegetables each day.
One night for dinner, I had some BBQ chicken in the crock pot (which is one of my go-to meals when I need dinner in a hurry) and I was trying to think of how I could get all my vegetable servings in one sitting . . . I started clearing out all the vegetables in the fridge and decided to turn my BBQ chicken into a salad. It was the perfect way to get my family to eat tons of vegetables AND clear out my fridge before the vegetables went bad.
My kids loved this because everything was chopped into bite-sized pieces and they could pick and choose what they wanted with their chicken!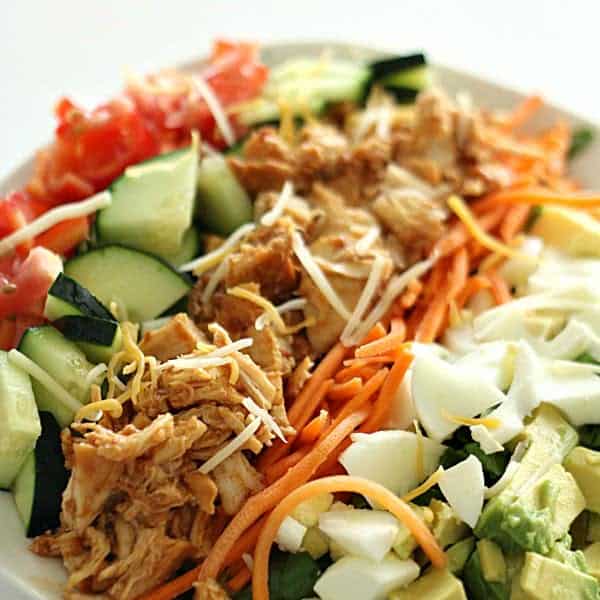 Slow Cooker BBQ Chicken Cobb Salad
Ingredients
5 chicken breasts
1 (18 oz) bottle barbecue sauce
12 cups chopped Romaine lettuce
2 avocados, diced
3 Roma tomatoes, diced
1 green pepper, chopped
2 carrots, thinly sliced
6 slices of bacon, cooked and crumbled
3 hard-boiled eggs, diced
2 cups cheddar cheese
Other toppings you might want to add: cucumbers, red onion, green onion, bleu cheese . . . the possibilities are endless!
Instructions
Spray the inside of your crock pot with non-stick cooking spray. Place chicken breasts inside and pour the bottle of barbecue sauce on top. Cover with lid and cook on low for 4-5 hours (or high for about 2 1/2 hours). Take chicken out of slow cooker and cut into bite-sized pieces.
Once chicken is cut, assemble your salads. Place about 2 cups of lettuce on the bottom of your plate and top with the vegetables/toppings of your choice. Top salad with your favorite salad dressing (my husband and I love ranch, my dad loves Thousand Island, my mom loves Italian . . . anything goes!).
http://www.sixsistersstuff.com/2013/02/slow-cooker-bbq-chicken-cobb-salad.html
Looking for other salad recipes?