I could eat peanut butter chips by the handful.  They are my favorite!  They taste even better when they are in the middle of chewy, chocolatey cookies!
Chocolate Peanut Butter Chip Cookies:
(Makes 4 dozen cookies)
Ingredients:
2 cups all purpose flour
3/4 cup cocoa powder
1 teaspoon baking soda
1/2 teaspoon salt
1 1/4 cups butter, softened
2 cups granulated sugar
2 eggs
2 teaspoons vanilla extract
1 (10 ounce) package Reese's Peanut Butter Chips
Directions:
Heat oven to 350 degrees.  Sift together flour, cocoa, baking soda and salt; set aside.  In a large mixing bowl, beat butter and sugar together until fluffy.  Add eggs and vanilla and mix well.  Gradually add flour mixture and beat until combined.  Fold in peanut butter chips.  Drop by rounded tablespoons onto ungreased cookie sheet.  Bake for 8-9 minutes.
(Recipe from Hershey's Kitchens)
Looking for more delicious cookie recipes?
Here are a few of our favorites: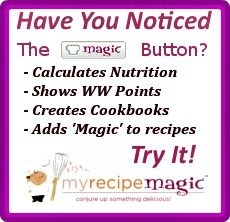 Not only does it add magic to recipes, but it's the only recipe sharing site that actually PAYS you to share your recipes! So if you have a delicious recipe that everyone always asks for or a family favorite that everyone loves, share it today and make a little extra "dough"!