We are huge pizza lovers and have passed this pizza loving gene on to our kids!  When we thought it couldn't get any better, we found pizza in a brownie form! Are you kidding…shut the front door!!  Our 2 favorite foods in one recipe!  🙂  Doesn't get any better than this!  You will love this fun brownie pizza for your Valentine parties.  Get your kids involved  by letting them add their own pizza toppings.
Valentine Brownie Pizza Recipe
Brownie Pizza Crust Ingredients:
8 Tablespoons cocoa powder
1 cup (2 sticks) margarine
1 teaspoon vanilla extract
2 1/2 cups all purpose flour
Directions:
Grease 2 pizza pans (12 or 13 inch pans).  Preheat oven to 325 degrees.  Melt margarine. Stir in cocoa.  Mix sugar and eggs in mixing bowl.  Stir in margarine and cocoa.  Add vanilla, flour, and salt. Spoon half of the batter into  the greased pizza pan.  This recipe makes 2 brownie pizzas.  Cook one pizza at a time.  Bake 17 minutes.  Let cool completely.
Frosting Ingredients:
1/2 cup (1 stick) margarine (room temperature)
Directions:
Combine frosting ingredients and mix well until smooth. Add enough food coloring to get your frosting as dark as you want it for your pizza sauce. Frost cooled pizza. Don't go all the way to the edge so that the brownie will show for your pizza crust. This will frost both pizzas.
Pizza Toppings:
4 ounces almond bark (shredded)
Directions:
Shred your almond bark with a cheese grater to look like mozzarella cheese.  Sprinkle it over the frosting and then add your pizza toppings. Add any other fun toppings to your liking!
Looking for more delicious Valentine recipes?
Here are a few of our favorites:
Don't forget!
Join us for a fun-filled day including lunch, workshops, and panels. This will be a great opportunity to network with lots of other bloggers and businesses, plus you'll get lots of free prizes, swag, and loads of information to help you grow your blog!  
Register today
!
This post is sponsored by: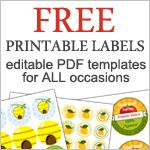 WorldLabel is a company that specializes in manufacturing blank label sheets for any occasion. Perfect for keeping track of all your belongings, they have labels from addresses and shipping, to CDs and other media, to home and business. All of their labels are formatted to fit your current label templates – whether they're Mac, Windows, or Linux. These non-curl, jam-free labels are available in over 50 sizes, and each size is available in fluorescent, pastel, clear, glossy, or matte colors.