I know that some people really don't like macaroni and cheese (especially the kind the comes in the blue box), but I have to be honest . . . it really is one of my favorite foods of all time. I love homemade versions and I love the easy versions that can be made in your microwave in 3 1/2 minutes that only require you to add water.
I know that some of your are probably totally disgusted right now. Sorry.

Anyway, the kids wanted
chicken nuggets
for dinner and I decided that I would attempt to make a homemade version of mac and cheese. I started looking all over the internet and was scared of some of the reviews that I read- lots of people had problems with the cheese curdling.
Sounds appetizing, right?!
I probably read over 20 different recipes and settled on this one that I found at
Repeat Crafter Me
because she seemed to know what she was talking about and her picture looked yummy.

 I followed her directions and 2 hours later, this dish was done. And about 30 seconds after that, it was completely devoured by my family. It was quick, easy, and incredibly delicious. I don't know if my family will ever let me make mac and cheese from that blue box ever again!
Slow Cooker Creamy Macaroni and Cheese
Ingredients:
2 cups uncooked elbow macaroni
4 tablespoons butter
2 1/2 cups grated sharp cheddar cheese
1/2 cup sour cream
1 (10.75 oz) can condensed cheddar cheese soup
1/2 teaspoon salt
1 cup milk (I used 1%)
1/2 teaspoon dry mustard
1/2 teaspoon black pepper
Directions:
Boil the macaroni in water for six minutes and drain. In a medium saucepan, mix butter and cheese. Heat over medium high heat and stir until the cheese melts. Spray your slow cooker with non-stick cooking spray. Combine cheese mixture, sour cream, soup, salt, milk, mustard and pepper in your slow cooker. Add the drained macaroni and stir again. Cook on low for 2 to 2 1/2 hours, stirring occasionally (I cooked mine for about 2 hours and stirred it twice and it was perfect).
Recipe source: Repeat Crafter Me
Looking for more kid-approved recipes?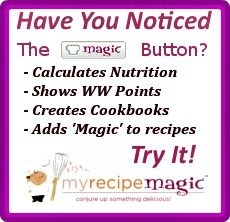 Not only does it add "magic" to your recipes, but it's the only recipe sharing site that actually PAYS you to share your recipes! So if you have a delicious recipe that everyone always asks for or a family favorite that everyone loves, share it today and make a little extra "dough"!