We are now in week 3 of our
8 Week "Get Healthy" Challenge
and one of the hardest things for me is making sure that I get in all my servings of vegetables. I just have a really hard time getting excited about raw carrots and it's all I can do to make myself eat them. One of my friends suggested that I try her recipe for these honey roasted carrots and I can seriously eat a whole pound of them in one sitting. They are so delicious and even my kids will eat them!
Honey Roasted Carrots
Ingredients:
Preheat oven to 400

degrees F.
Line a baking sheet with foil and spray lightly with non-stick cooking spray. In a bowl, mix together carrots and olive oil until carrots are all covered. Spread the carrots in a single layer on the baking sheet. Drizzle the honey over the carrots and sprinkle salt and p

epper on top.
Bake

uncovered, turning once, under just tender (about 25-30 minutes).

 
Looking for more vegetable dishes?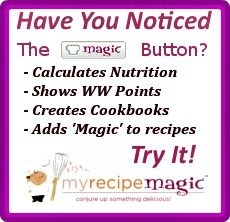 Not only does it add "magic" to your recipes, but it's the only recipe sharing site that actually
PAYS
you to share your recipes! So if you have a delicious recipe that everyone always asks for or a family favorite that everyone loves, share it today and make a little extra "dough"!