These cookies are seriously so quick and easy to make, but taste like you spent a lot of time on them. They are so fudgy and chewy- I have yet to meet a person who doesn't like them.
The best part
about these cookies is that they
only
require
4 ingredients (and I bet that you have them in your pantry right now!).
Fudge Crinkle Cookies
Ingredients:
1 (15.25 oz) box Devil's Food cake mix
1/2 cup vegetable oil
2 eggs
1/2 cup powdered sugar (for rolling the cookies in)
Directions:
Preheat oven to 350 degrees. Stir together the dry cake mix (do not follow directions on the box- you just want to use the dry ingredients that are in the box), oil and eggs in a large bowl until dough forms. Dust hands with confectioners' sugar and shape dough into 1- 1.5″ balls. Roll balls in confectioners' sugar and place 2 inches apart on ungreased cookie sheets. Bake for 7-9 minutes or until center is JUST SET. Remove from pans after a minute or so and cool on wire racks.
Looking for more cake mix recipes?
This post is sponsored by:
Scentsy
(Independent Consultant Allison Dalke)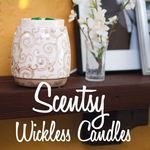 We absolutely LOVE Scentsy! These wick-less alternatives bring the memories you associate with beautiful fragrances to your home without the safety risks of a candle. Their new scents are perfect for the winter months you spend inside – check out them out today!