I have a major sweet tooth.  I have tried to eat healthy and give up sweets a few times in my life, and whenever I do I am completely miserable!  I just can't do it!  I feel a little less guilty when my dessert has fruit in it. Is that just me? This tasty treat was so easy to make and the baked bananas are absolutely amazing!
Baked Bananas with Dark Chocolate Recipe:
Ingredients:
4 (9″ x 14″) sheets phyllo (fillo) dough
4 medium ripe bananas
1 tablespoon chopped walnuts, crushed into a coarse powder
Cinnamon
Canola oil spray
1 (4 ounce) bar dark chocolate
2 Tablespoons vegetable oil
Directions:
Preheat oven to 375 degrees.  Spray an 8×8 inch baking dish with canola oil or nonstick cooking spray.  Unroll thawed phyllo dough and place it on your workspace.  Remove one sheet, place a peeled banana along one end and sprinkle the rest of the dough with a fourth of the walnut powder.  Sprinkle the banana with a little cinnamon and carefully roll it up in the phyllo dough.  Place it seam-side down in the baking dish.  Repeat with remaining bananas.  Spray the top of the banans with canola oil.  Bake for 20-30 minutes or until the tops are golden brown.  
In a small bowl, combine dark chocolate and vegetable oil.  Microwave in 30 second increments until melted.  Drizzle dark chocolate on top of baked bananas and sprinkle on any remaining walnuts.

Looking for more low calorie snacks?
Here are a few of our favorites:
Join us for a fun-filled day including lunch, workshops, and panels. This will be a great opportunity to network with lots of other bloggers and businesses, plus you'll get lots of free prizes, swag, and loads of information to help you grow your blog!  
Register today!
This post is sponsored by: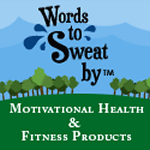 It's that time of year again, and if you're like us, fitness goals are on your resolutions list! We love Words ToSweat By for their sassy (or serious) workout gear.Their pieces inspire you and give you motivation to get off the couch or to help you push through those last minutes of your workout. They offer a variety of products that appeal to people of all athletic inclinations – from the the novice to the elite, the recreational to the competitive. Let Words To Sweat By help you reach your fitness goals for 2013!