Honey Broiled Salmon
Ingredients
1 Tablespoon of minced onion
2 Tablespoons of reduced sodium soy sauce
1 Tablespoon of red wine vinegar
1 teaspoon of Worshireshire sacue
1 Tablespoon of honey
1 teaspoon of ground ginger
1 pound of frozen salmon fillets (thawed)
1 teaspoon of sesame seeds (optional)
Directions
1. Whisk onions, soy sauce, vinegar, honey and ginger in a small bowl until the honey is dissolved. Place salmon in a plastic Ziplock bag. Place 3 Tablespoons of the mixture into the bag with the salmon and put it in the refrigerator to marinade for at least 15 minutes (a couple of hours is much better).
2. Preheat broiler. Line a small pan with foil. Then spray foil well with non-stick cooking spray.
3. Place salmon into the pan and broil it for 6 to 10 minutes until it is cooked through. Drizzle with the reserved sauce and garnish with sesame seeds.
This post is sponsored by:
(Independent Consultant Janice Polderman)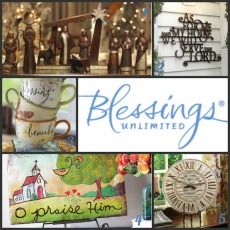 Blessings Unlimited
is a unique store that focuses on blending business and faith through their beautiful home decor and gifts. Every item they sell is intended to inspire hearts, build relationships, and bring beauty to the place where you live. They are perfect for your home, or for the homes of the ones you love. Take a look at some of their wonderful products today!