First of all,
I just wanted to thank all of you for your sweet thoughts and comments about my baby girl, Taylor Joy. After a hard miscarriage and some yucky surgeries, we are so happy that she is here. She is our little miracle and we feel so blessed!
(Please excuse my posts for the next little while . . . I am a little sleep-deprived! I am praying I don't have any grammatical errors or leave out key ingredients! Please bear with me.)
Okay, back to the scheduled recipe . . .
Do you ever run into the problem of wondering what to do to jazz up plain ol' chicken breasts? I came across this recipe in an old family cookbook a few years ago and it is one of our favorite weeknight meals! It can be thrown together in less than 30 minutes and it tastes incredible. I have heard that it's similar to the Monterey Chicken that they serve at Chili's restaurants, but you'll have to try it for yourself to see how it compares.
Monterey Chicken
Ingredients:
4-6 boneless, skinless chicken breasts, thawed
Salt and pepper
1 cup barbecue sauce (our favorite is Famous Dave's brand, but any kind would work)
10 pieces bacon, cooked
1 1/2 cups Monterey Jack cheese and cheddar cheese mix, shredded
Fresh diced tomatoes
Diced green onions
Directions:
Pound the chicken breasts so that they flat (this will also help make the chicken very tender). Season with salt and pepper.
Cook the chicken over an outdoor grill over medium high heat; 6-7 minutes per side or until fully cooked. If you don't have an outdoor grill, you could easily cook it over an indoor grill or in a skillet on the stove top that has been sprayed with cooking spray.
After the chicken is finished cooking, transfer the chicken breasts to a large baking sheet covered in aluminum foil. Spread 2-3 tablespoons of barbecue sauce over each chicken breast. Top each chicken breast with 2 slices of bacon and and a handful of the shredded cheese mix. Place the baking sheet in an oven broiler (or microwave long enough to melt the cheese). Top with diced tomatoes and green onions. Serve immediately.
Looking for more delicious chicken recipes?
This post is sponsored by: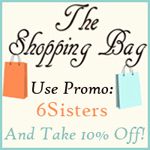 Get All Your Shopping Done From A to Z!
Check out one of their newest products:
The Tapi
! I don't know about you, but we always seem to be running out of cups. Now, with the Tapi, that is no longer a problem! We got to try the Tapi, and we have fallen in love! The Tapi fits onto almost any tap, and as you squeeze the bottom, it turns it into a drinking fountain!