My husband is loving granola bars right now. So I decided to try something new. My mom gave this recipe to me and these little things are amazing! They taste a lot like the soft fruit and cereal bars you can buy in the store.
Apricot Oatmeal Bars:
1 cup quick oats
1 cup white flour
2/3 cup brown sugar
1/4 teaspoon salt
1/4 teaspoon baking soda
1/4 cup canola oil
3 tablespoons applesauce
1 10 ounce jar apricot preserves (1 cup) for healthier option you can use the "all-fruit" jam.
Preheat oven to 325. Lightly grease a 9″x9″  baking pan.
In a large bowl, stir together oats, flour, brown sugar, salt, and baking soda with your fingers until all brown sugar lumps are gone.
Drizzle oil and applesauce over the oats and mix in until evenly moistened and crumbly. (Fingers work best)  Set aside 3/4 cup for the topping.  Press the
remainder evenly into the prepared pan.  Spread apricot preserves over the top.  Sprinkle with the reserved oat topping.
Bake for 30 minutes or until they are golden brown on top.  Let cool in the pan and then cut into bars. These can be stored at room temperature in an airtight container.
These are so quick to make and very delicious!  This would be perfect for breakfast or snack on the go!
Looking  for other healthy snacks? Here are some ideas
This post is brought to you by: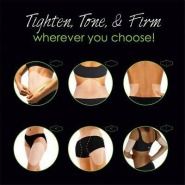 This all natural body wrap detoxifies to tighten, tone, and firm all those trouble areas! It may even help minimize the appearance of cellulite and skin slacking. The great thing about this contouring body wrap is that you can target your trouble spots – such as your abs, upper arms, love handles, thighs, chin and neck…basically anywhere from the neck down. 🙂 Stephanie and Elyse got the chance to try The Ultimate Body Applicator® and loved how fast they saw results! Within 45 minutes, they could SEE the difference! Want to see a difference in your body? Try 
The Ultimate Body Applicator®
 today!