Don't you love recipes where you simply dump the ingredients in your slow cooker and let it do the work for you?!  This recipe has only 3 ingredients and is so delicious that you'll want to make it again and again!
Ingredients:
1 (24 oz) pkg. frozen meatballs (I used turkey meatballs)
2 (14 oz) cans jellied cranberry sauce
2 (20 oz) bottles of BBQ sauce
Directions:
Combine jellied cranberry sauce and BBQ sauce in a crock pot and stir until smooth.  Add meatballs and stir until well coated.  Cook for 2-5 hours on low.  Serve over rice or with toothpicks.
Looking for more delicious meatball recipes?
Here are some of our favorites:
This post is sponsored by: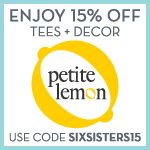 Petite Lemon has some of the cutest personalized clothing and home decor for children.  They are perfect to announce an arrival of new baby, capture your child's growth, or to show off that "sibling style!" Personalize a nursery or a baby shower gift with their great products. Check them out today!