I have always liked Oreo cookies, but during this latest pregnancy, I just can't get enough of them! So please bear with me while I share my latest Oreo deliciousness. 🙂
We took these little cheesecakes to a party and they were a huge hit. Everyone loved that they were baked and served in cupcake liners, making them so easy to serve and eat. And don't be intimidated- they are so simple to whip up!
Mini Oreo Cheesecakes
Ingredients:
3 (8 oz) packages regular or light cream cheese, softened
3/4 cup sugar
3 eggs
1 teaspoon vanilla
24 whole Oreo cookies
12 Oreo cookies, crushed
Hot fudge or chocolate syrup
Whipped Cream
Additional Oreo cookie crumbs for garnish
Directions:
Place 24 cupcake liners in muffin tins. Set a whole Oreo cookie in the bottom of each liner. Beat together softened cream cheese, sugar and vanilla until smooth. Add the eggs, one at a time, mixing until just blended. Gently fold in 12 crushed Oreo cookies (I put the cookies in a ziploc bag and crushed them with a rolling pin). Spoon cheesecake mixture over each cookie in the liners. Bake at 350 degrees for 15-20 minutes or until the center of each cheesecake is almost set. Cool completely, then refrigerate at least one hour (or overnight). Top with a dollop of whipped cream, drizzle with chocolate sauce, and sprinkle crushed Oreo cookies on top. Amazing. 🙂
Looking for more Oreo desserts to feed your cravings?
This post is sponsored by: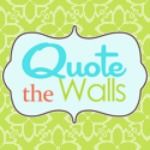 Use Quote the Wall's personalized vinyl lettering to add a finishing touch to any wall in your home. The letters, quotes and words can be made to fit any size space on your wall. You can purchase something they all ready have, or create your own!