I love desserts that look and taste like I put a lot of effort into, but really only took me minutes to make.  If you are someone who likes cookies, chocolate, caramel and pecans,
beware
.  Don't find yourself alone in the house with them.  I ate the majority of these
by
myself
. 
They are addicting.
Gooey Turtle Bars Recipe:
Ingredients:
2 1/4 cups all purpose flour
2 1/4 cups old fashioned oats
1/2 cup light brown sugar
1/2 teaspoon salt
1/2 teaspoon baking soda
1 cup butter (two sticks), softened to room temperature
1 12 oz. bottle of caramel topping
2 cups milk chocolate chips
2 cups pecans, coarsely chopped
Directions:
In a medium bowl combine flour, oats, brown sugar, salt and soda.  Add softened butter and stir until it makes crumbs.  Press three quarters of the crumbs in the bottom of a large cookie sheet (12 x 17 x 1 or 10 x 15 x 1).  Bake at 350 degrees for 10 minutes.  Remove from oven and pour caramel evenly over crust.  Sprinkle with chocolate chips, pecans and remaining crumbs.  Return to oven and bake for 15 minutes.  Let cool slightly before cutting.
Looking for more delicious desserts?
Here are some of our favorites:
This post is sponsored by: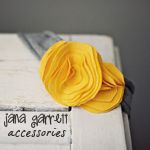 Jana Garrett Accessories has some of the stuff around!  She specializes in making cute and comfortable accessories for you and your baby.  She offers everything from jersey knit headbands to burp cloth or diaper sets.  Not only are her accessories great, but they are affordable!