I am ashamed to admit that I have never attempted to make homemade cinnamon rolls.  I don't know what it is about "rolls" in general, but I tend to get a little hesitant to make them.  I always worry that they won't rise or something will go terribly wrong!  I gave this recipe a whirl and my whole family
loved
them, including my Mom and sisters who stopped by for a visit!  Maybe it is the little hint of sweetness the cake mix gives?  Or that they are smothered in cream cheese frosting? I don't know, but I know that I can't wait to make them again!  Make them tonight and eat them for breakfast.  Trust me, your family will thank you.
Cake Mix Cinnamon Rolls Recipe:
(Makes 24 rolls)
Ingredients:

Cinnamon Rolls:
1 box of white or yellow cake mix
2 packages of active dry yeast
2 1/2 cups of warm water
1 teaspoon vanilla
1 teaspoon salt
5 cups flour
Filling:
2 cups brown sugar
Cinnamon
1/2 cup butter, softened

Frosting:
1 can cream cheese frosting
Directions:
Mix yeast and warm water until dissolved.  Combine cake mix, salt and flour in a large bowl.  Add warm water/yeast mixture and vanilla to cake mix, salt and flour mixture.  Mix well.  This may require kneading with your hands a bit to completely combine ingredients.  Cover tightly.  Let rise for one hour.  Punch down and let rise again for another 30-60 minutes.On a floured surface, roll dough into a rectangle shape, approx 1/4″ thick.  Once dough is rolled out, brush with softened butter.  Sprinkle with brown sugar.  Sprinkle with cinnamon – use as little or as much as you like.  Starting at end opposite from you, roll the dough towards you until all dough is rolled into one long piece.  Slice dough into 24 equal sized pieces.Place rolls in two greased 9×13 pans.  Cover and let rise until doubled in size.  I usually sit my rolls on my stove top while my oven preheats to 350 degrees.  This allows them time to rise and provides a bit of warmth from the oven warming.  Bake at 350 degrees for 15-25 minutes or until golden brown. This will depend on your stove and your preference for how brown you like your cinnamon rolls. Remove from oven and let cool slightly.  If you prefer your frosting to melt into your rolls, frost after rolls have cooled for 10-15 minutes.  If you prefer your frosting to stay on top of your rolls, wait until rolls have cooled until frosting.
(Recipe from Love From the Oven)
Looking for more breakfast rolls recipes?
Here are some of our favorites:
This post is sponsored by:
(Independent Consultant Samantha Fryer)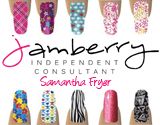 We are absolutely in love with Jamberry Nails!  These nail shields are perfect for fingernails or toenails, and last 2-6 weeks. They have so many different styles – perfect for any occasion!  From bridal designs, to clear covers, to fabulously fun, they have every kind of shield you could hope for. Shop by category – by the season, color, pattern or charity or purchase a gift certificate for the people you love.  Check them out today and get their special offer – buy 3 get 1 free!