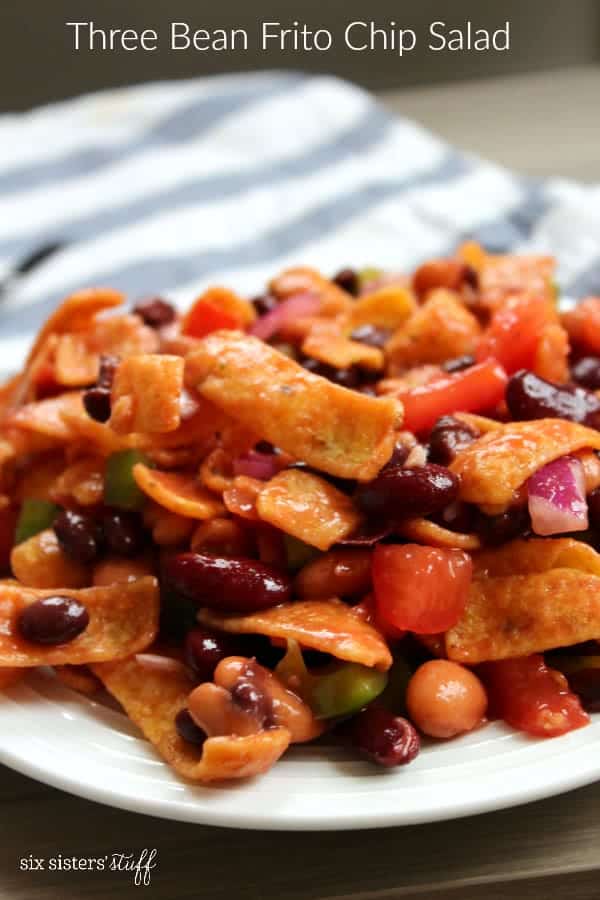 This recipe is so easy and no fail!  It's always a hit when we bring it to family parties.  We always come home with an empty bowl!
Three Bean Frito Chip Salad Recipe
Ingredients
1 purple onion
3 tomatoes
1 green pepper
1 can kidney beans
1 can pinto beans
1 can black beans
8 oz. Catalina dressing
10.5 oz bag Frito chips
Instructions
Cut up onion, tomates and pepper.
Combine in a bowl.
Then add beans after they have been drained and rinsed.
Stir in Catalina dressing.
Marinate for about 6 to 8 hours or overnight.
Stir in Frito chips right before serving.
Makes about 9 servings.
http://www.sixsistersstuff.com/2012/04/three-bean-frito-chip-salad-recipe.html
Looking for more salad recipes? Here are our favorites!
Nut and Berry Salad
Chicken Caesar Pasta Salad
Favorite Taco Salad
Spinach Mandarin Poppy Seed Salad
BBQ Chicken Cobb Salad

Our new cookbook, Dinner Made Easy, is now available for SALE!
With over 100 easy main dishes to help you get dinner on the table, meal time will be a breeze!