If you are looking for the perfect Easter dinner side dish,  then look no further!
These potatoes can bake away while you prepare the rest of the dinner. They only take a few minutes to assemble and taste amazing.
Slow Cooker Scalloped Potatoes
Recipe adapted from Family Fresh Meals
Serves 12
Ingredients:
1 cup sour cream (I used fat free)
1 can condensed cream of potato soup
1 tbsp Worcestershire sauce
2 lb small red potatoes (I peeled mine but that is optional)
1 1/2 cups shredded cheddar cheese
1/2 tsp paprika
3 tbsp chopped fresh chives for topping
Directions:
Thinly slice potatoes and set aside.  Mix sour cream, can of potato soup and Worcestershire sauce together in a large bowl.  Add thinly sliced potatoes to the mixture and mix until all potatoes are well coated.  Spoon 1/2 of the potato mixture into a crock pot sprayed with cooking spray.  Top with 3/4 cup of shredded cheese.  Repeat layer with remaining potatoes and cheese.  Cook on HIGH for 3.5 to 4.5 hours (or on LOW 7 to 8 hours). Serve topped with a sprinkle of paprika and chives.
We have just released our first
25 Favorite Slow Cooker Recipes E-Cookbook
that you can purchase
here!
It is only $1.99, so be sure to check it out!
We want to introduce you to one of our sponsors: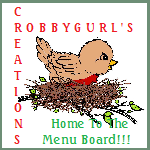 This blog is full of amazing ideas, tutorials, and the famous "Menu Board"!
Robin has come up with the best way to plan your meals for each month and makes them easily accessible for everyone. You have to stop by and say hello!