Do you ever find yourself with a ton of leftover bananas that are getting too ripe and covered in spots?
Something covered in delicious frosting . . .
You see, I am 16 weeks pregnant and my latest craving has been frosting.
(I know, it's totally random and kind of gross. But what can you do?)
Anyway, as I was deciding what to do with my ripening bananas, I started thinking about a banana cake my mom used to make when we were growing up . . . and then I thought about how good it would be smothered in fluffy cream cheese frosting.
And then this little baby was born.
If you like banana bread, you will love this.
If you like cream cheese frosting, then you will love this.
If you like both of them, this may be your lucky day!
Banana Cake with Fluffy Cream Cheese Frosting
Recipe source: Mom's recipe with my frosting addition

Ingredients:
1/2 cup butter, softened
1 1/2 cups sugar
2 eggs
1 1/2 cups mashed bananas (about 3-4 medium bananas)
1 teaspoon vanilla extract
2 cups all-purpose flour
2 teaspoons baking powder
1 teaspoon baking soda
1/2 cup milk
Frosting ingredients:
1 (8 oz) package cream cheese, softened
1/2 cup butter, softened
1 teaspoon vanilla extract
3-4 cups powdered sugar (more or less until it's the consistency you like)
Directions:
In a large bowl, cream the butter and sugar until light and fluffy. Add eggs, one at a time, beating well after each egg. Beat in bananas and vanilla. Combine the flour, baking powder, and baking soda; add to creamed mixture alternately with milk, beating well after each addition.
Transfer to a greased 9×13″ baking pan. Bake at 350 degrees for 25-30 minutes (or until toothpick inserted in the middle comes out clean). Cool on a wire rack.
For frosting, in a large bowl, beat cream cheese and butter until light and fluffy. Beat in vanilla. Gradually add powdered sugar until smooth. Spread over bars. Store covered in the fridge.
This post is sponsored by: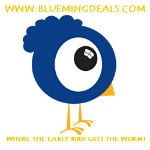 BlueMing Deals is a website that specializes in DIY supplies and kits at amazing discounted prices! There is a new deal everyday, so you will want to check back often to see the latest and greatest deal!
And here is a heads-up . . . BlueMing deals has let us in on a pre-sale deal:
We R Memory Keepers brand new line of Washi tapes is on the way in a few short weeks and the retail orders are piling up in preparation for the demand on these much anticipated paper tapes!
But we know where you can get these tapes at the same time as the retail outlets, at 30% off and you don't even have to leave the house…
BlueMing Deals is having a Weekend Washi Pre-Order Sale this weekend only!  They've reserved a chunk of stock from the new release and will be offering these new Washi tapes at 30% off the MSRP.  The sale start Saturday April 14 at 9:00 AM PST and ends Sunday, April 15 at 9:00 PM – or until they're gone!  
 Some of the colors of the Washi tapes are pink, aqua, and purple . . .

Be an Early Bird and get in on the sale Saturday morning – they've got only 30 rolls of each color on reserve – get 'em before they're gone at www.BlueMingDeals.com!