This pork is seriously so tender and full of flavor . . . and requires very little work on your end! We love the chile verde pork in tacos, but it also tastes great on a salad, with tortilla chips, wrapped in a burrito, or even eaten as is! My husband and I have been tinkering with this recipe for a long time, and I think we finally have it down perfectly. It is one of our favorites!
Slow Cooker Chile Verde Pork Roast
Ingredients:
2-3 lb. pork roast (I usually get a shoulder because it is cheaper, but any kind will work!)
1 onion, minced
3 cloves garlic, crushed
1 green pepper, finely chopped
2-3 tomatillos, husked and chopped*
1 jalapeno, seeded and chopped (optional- I usually don't add this because of my kids)
1 (16 oz) jar green salsa
1 (4 oz) can green chilis
1 (14 oz) can diced tomatoes
1 tsp cumin
*These are like a green tomato, wrapped in a husk. When I first tried one a couple of years ago, I had to ask someone at the grocery store to point them out to me, but I have learned that most grocery stores carry them and they are fairly inexpensive. They are delicious in this pork!
Directions:
Spray your slow cooker with non-stick cooking spray. Place your roast in the slow cooker. Add all other ingredients (I just dump them in right on top of the roast). Cook on low for 8-10 hours. Once finished, shred the roast with two forks (it will literally fall apart). Serve on flour tortillas for tacos and add desired toppings.
Our favorite toppings:
Lettuce, tomatoes, salsa, guacamole, sour cream, cheese, green peppers, jalapenos
Be sure to check out our sponsor: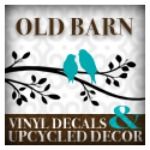 If you are looking for unique and one-of-a-kind home decor and vinyl lettering, look no further. They have amazing quotes with vinyl lettering that is beautifully HAND-WRITTEN. It is absolutely gorgeous.
Linking up here!