Making these Bird Nest Cookies has been a tradition in our family since I was a little girl. Every spring, we would always have a million birds in our backyard (mostly annoying magpies, but birds nonetheless) and we always knew when the baby birds had hatched from their eggs because you could hear their sweet little chirps.
Now these cookies are just a part of my springtime/Easter routine. They are so easy to throw together and something about the sweet and salty combo makes them so irresistible to me! I seriously can't stop eating them. My kids LOVE to help me make them- even my 2 year old gets into making his "bird nests" look just right. It's such a fun way to welcome spring . . . and the baby birds.

Chocolate Bird Egg Nest Cookies
Ingredients:
1 (11-12 oz) bag milk chocolate chips
1 (11-12 oz) bag butterscotch chips*
1 (10-12 oz) bag Chow Mein noodles
M &M's, Jellybeans, Chocolate eggs, or any other kind of "egg-shaped" candy
Directions:
Dump your two bags of chips into a microwave-safe bowl. Melt in the microwave on 50% power for 60 seconds. Stir and repeat until all chips are smoothly melted.

Add bag of chow mein noodles to the melted chocolate and stir until all noodles are coated.
Lay out wax paper and drop a large tablespoonful of chocolate noodles onto wax paper. Mold into a "bird nest" shape. Warning- your hands will get messy.
Place a couple of "egg" candies on top of the chocolate nest. Let harden (if you can resist eating it! They are good when they are warm and gooey too!) and place in the fridge if you want them to set-up faster.
Enjoy! Happy Spring!
*Don't like butterscotch chips? You can switch them out for a second bag of chocolate chips, white chocolate chips, or peanut butter chips. I have tried all of those combos and think that they are delicious! 
We are excited to introduce you to one of our new sponsors:
Bow of the Tiger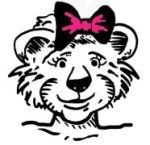 They carry handmade accessories for your car, children, electronics, and special occasions.
Be sure to stop by and check out their darling selection!
Linking up here and here!