I love, love, love to go out to dinner . . . however, our budget doesn't always allow it. I love finding restaurant recipes that I can make for a fraction of a price and have them taste just as good! We found this recipe a couple of weeks ago and have made it a three times already! It's super simple to throw together and the dressing is delicious. So, save your money and make this restaurant-quality meal for your family tonight!
Applebee's Knock-off Oriental Chicken Salad
Recipe Source: Mommy? I'm Hungry
Oriental Dressing:
6 Tbsp. honey
3 Tbsp. Rice Vinegar
1/2 c. Mayonnaise
2 tsp. Dijon mustard
1/4 tsp. Sesame oil
Blend together all ingredients in a small bowl with a whisk or mixer. Refrigerate while you work on the salad.
Salad:
2 pieces of Crispy Chicken Strips (frozen or from the deli) or leftover grilled chicken (that is what I used)
Bagged salad with assorted lettuces, cabbage, and vegetables
Bagged broccoli slaw
1 Tbsp. sliced almonds, toasted
1/4 c. fried won ton strips (optional- we opted to not use them)
1/4 cup mandarin slices, drained well
Directions:
Bake the chicken strips according to the package directions (if you bought frozen ones) or reheat grilled chicken. Cut up the chicken into bite-sized pieces.
Mix together a large handful of the lettuce salad and the broccoli slaw. Top with cut up chicken, almonds, wontons and madarin slices. Drizzle the dressing on top. Serve immediately.
We are excited to introduce you to one of our sponsors: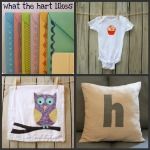 They specialize in embellished dish towels, baby onesies, stationary, and personalized towels. All of their items are one-of-a-kind and make amazing gifts.
Be sure to stop by and say hello!
Right now they are having an Anniversary Sale and all their items are an additional 20% off! Hurry in before the sale ends!