This is a delicious, easy meal for when you don't have a lot of time to spend in the kitchen.  Your family will never know you only spent a few minutes preparing dinner!
Crock Pot Italian Chicken Recipe:
(Makes 4-6 servings)

Ingredients:
4 chicken breasts
1 packet dry zesty Italian dressing
1 (8 ounce) package cream cheese, softened
2 (10.75 ounce) cans cream of chicken soup

Directions:
Place chicken in a slow cooker and sprinkle Italian dressing over it.  Combine cream cheese and cream of chicken soup in a small post over low heat and warm until melted through; pour over chicken.  Cook on low 4-6 hours.  Once chicken is done, you can leave the chicken breasts whole or shred them.  Serve chicken over pasta or rice.
Looking for more chicken recipes?
Here are a few of our favorites:
Poppy Seed Chicken Casserole
Chicken Taco Casserole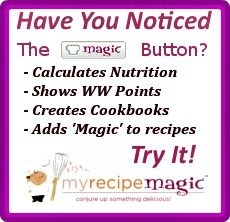 Not only does it add "magic" to your recipes, but it's the only recipe sharing site that actually PAYS you to share your recipes! So if you have a delicious recipe that everyone always asks for or a family favorite that everyone loves, share it today and make a little extra "dough"!