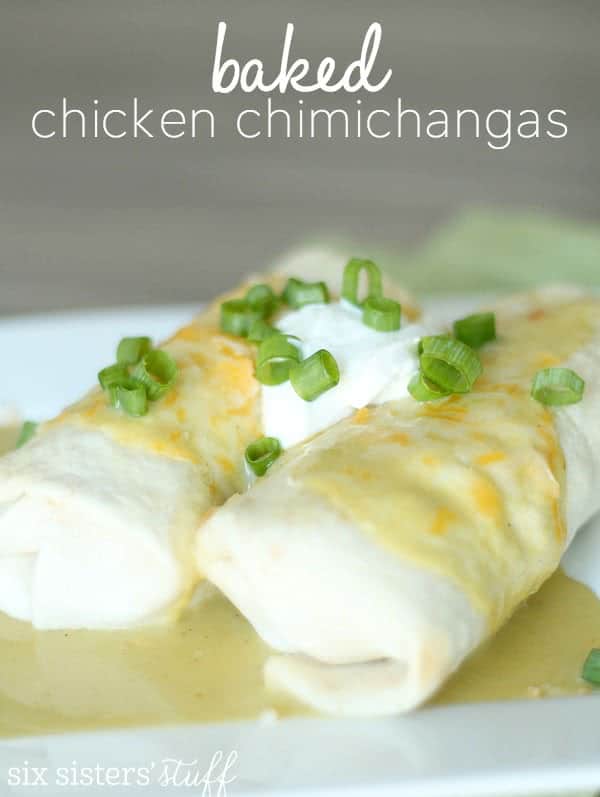 I absolutely love chimichangas, but I hate that they are fried!  I set out to make a delicious chimichanga that was baked and this recipe turned out perfect!  Even though they are baked, they have a nice crunchy outer shell.  I smothered mine and my husband's with the green sauce, but my kids picked them up with their hands and ate them plain!
Baked Chicken Chimichangas with Green Sauce
10 minPrep Time
30 minCook Time
40 minTotal Time
Ingredients
2 (10.5 ounce) cans condensed cream of chicken soup
2 (4 ounce) cans diced green chiles
5 pitted green olives
1 jalapeno pepper, seeded and diced
2 Tablespoons fresh lime juice
1 (8 ounce) package cream cheese
1 (8 ounce) package shredded Monterey Jack cheese
1/2 (1 ounce) package taco seasoning
1 pound shredded, cooked chicken
8 (10 inch) flour tortillas
1/4 cup olive oil
Shredded cheddar cheese, for topping
Sour cream, for topping
1 cup diced green onion, for topping
Instructions
Preheat oven to 350 degrees F.
Pour cream of chicken soup into a blender along with the green chiles, olives, jalapeno, and lime juice.
Puree until smooth, then pour into a saucepan, and warm over medium-low heat while proceeding with the recipe.
In a large bowl, stir together cream cheese, Monterey Jack cheese, and taco seasoning until well blended.
Fold in the chicken and mix until well combined.
Evenly divide mixture among the 8 tortillas.
Fold each tortilla into a rectangular packet around the filling.
Place all chimichangas in a 9x13-inch glass baking pan, sprayed with nonstick cooking spray. Brush all sides of each chimichanga with a small amount of olive oil.
Bake for 15 minutes, pull pan out and turn over each chimichanga. Bake for 15 minutes more.
To serve, place a chimichanga on a plate, and ladle the warm sauce overtop. Sprinkle with cheddar cheese, sour cream and green onions.
http://www.sixsistersstuff.com/2011/07/baked-chicken-chimichangas-with-green.html
Supplies needed for this recipe: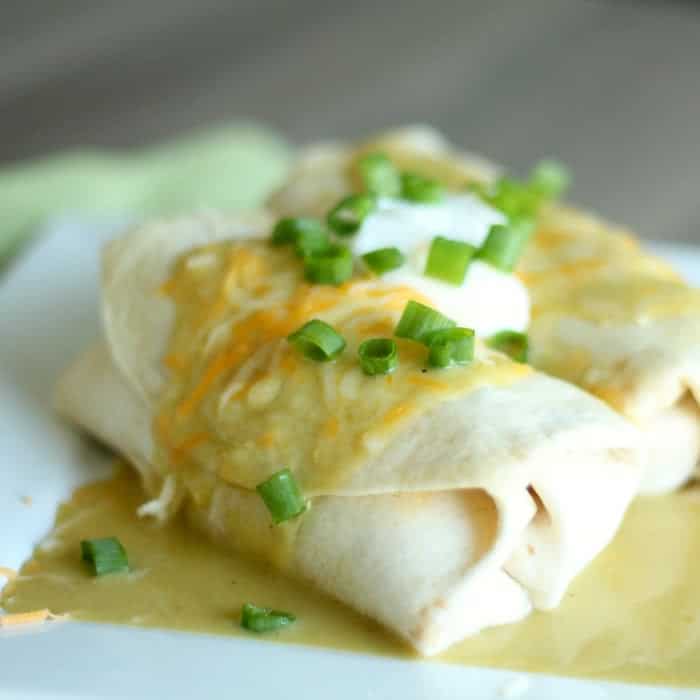 Looking for more delicious dinner recipes?
Here are a few of our favorite:
Baked Italian Chicken
Slow Cooker Honey Garlic Pork
Baked Cheeseburger Sliders
Baked Orange Chicken
Quick and Easy Calzones
 
We know how hard it can be to get dinner on the table.  That is why we created the Six Sisters' Menu Plan Membership!  Each week you will receive a weekly menu plan (that includes 6 main dish recipes, 2 side dish recipes and 2 dessert recipes) and a detailed shopping list to make grocery shopping a breeze!  We have done all the busy work for you, so you just need to shop and cook!

All of our recipes are family-friendly and we have been developing these recipes for the last 5 years!
We offer three different membership programs:
Traditional (feeds 6-8 people)
Smaller Family (feeds 2-4 people)
Gluten-Free (feeds 4-6)
You can read more about it and JOIN HERE!
For as little as $3 a month, you can take the stress out of dinnertime!  It is free to cancel at anytime, so it's worth a shot at making your life easier!