This is seriously one of the EASIEST recipes to make and it tastes AMAZING! My husband and I attended a luau where they served this for dinner- we asked for the recipe and have made it at least a dozen times since!
Ingredients:
1 (2-4 pound) pork shoulder or butt roast, fat trimmed
1 Tablespoon sea salt
1 Tablespoon liquid smoke flavoring
3-4 cups cooked brown or white rice
Chopped green peppers (optional)
Diced tomatoes (optional)
Chopped onions (optional)
Banana peppers (optional)
Diced cucumbers (optional)
Sliced olives (optional)
Teriyaki sauce (optional)
Directions:
Pierce pork all over with a carving fork.  Rub salt and liquid smoke over meat.  Place roast in a slow cooker.  Cover and cook on low 10-12 hours  Turn once about halfway through cooking time.  remove meat from slow cooker and shred with 2 forks, adding drippings as needed to moisten.  Serve over rice, topped with your favorite veggies and teriyaki sauce.
Looking for more slow cooker recipes?
Here are a few of our favorites: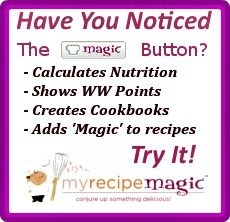 Not only does it add magic to recipes, but it's the only recipe sharing site that actually PAYS you to share your recipes! So if you have a delicious recipe that everyone always asks for or a family favorite that everyone loves, share it today and make a little extra "dough"!